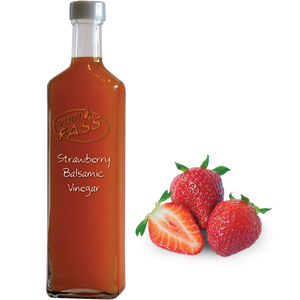 Strawberry Balsamic Vinegar
Composition: Vinegar specialty from strawberry vinegar and strawberry purée.

Taste: A fresh strawberry flavor with a pleasing aroma.
Uses: Mouthwatering when used with fresh, fruity salads and dips or when drizzled over asparagus or other fresh vegetables. Our advice: Enjoy it with mineral water for a wonderfully refreshing drink.
Pairs With: Bear's Garlic Extra Virgin Olive Oil or FassZination Pistachio Oil
Acidity: 5%

Origin: Waldburg, Germany
---
We Also Recommend