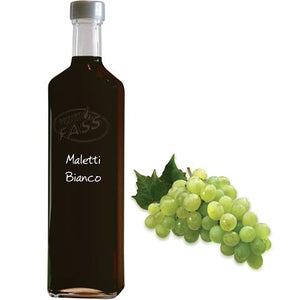 Maletti Bianco
Composition: Speciality from concentrated grape juice and grape vinegar.

Taste: The fruity sweetness of ripe grapes blended with a light acidity serves to define the character of this specialty. 
Uses: Perfect refinement for all appetizers, fruity grill marinades, or salads. Outstanding as a bright, sulphur-free alternative to our Aceto Balsamico or as a splendid dressing when mixed with olive oil.
Pairs With: Lemon Extra Virgin Olive Oil or FassZination Sesame Oil

Acidity: 3%

Origin: Waldburg, Germany 

---
We Also Recommend