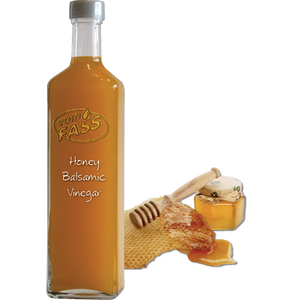 Honey Balsamic Vinegar
Composition: Honey wine, which is often known as mead, provides the basis for the production of our honey balsam, to which we add pure honey to round off this finely aromatic vinegar. Produced from superb forest blossom honey from Southern Germany, this balsamic vinegar is additionally matured in oak and acacia barrels.
Taste: Unique sweet flavor. Be prepared for a special sweet-sour taste experience
Uses: Salad dressings and sauces, and as an aperitif or in desserts. Drizzle over caramelized vegetables (i.e., onions, carrots, etc.), marinate poultry or fish, dress lettuce salad leaves with Pumpkin Seed Oil, and pair with blue cheese (Roquefort or Stilton).
Pairs With: Smoky BBQ Extra Virgin Olive Oil or Ginger Sesame Oil

Acidity: 5%

Origin: Germany
---
We Also Recommend